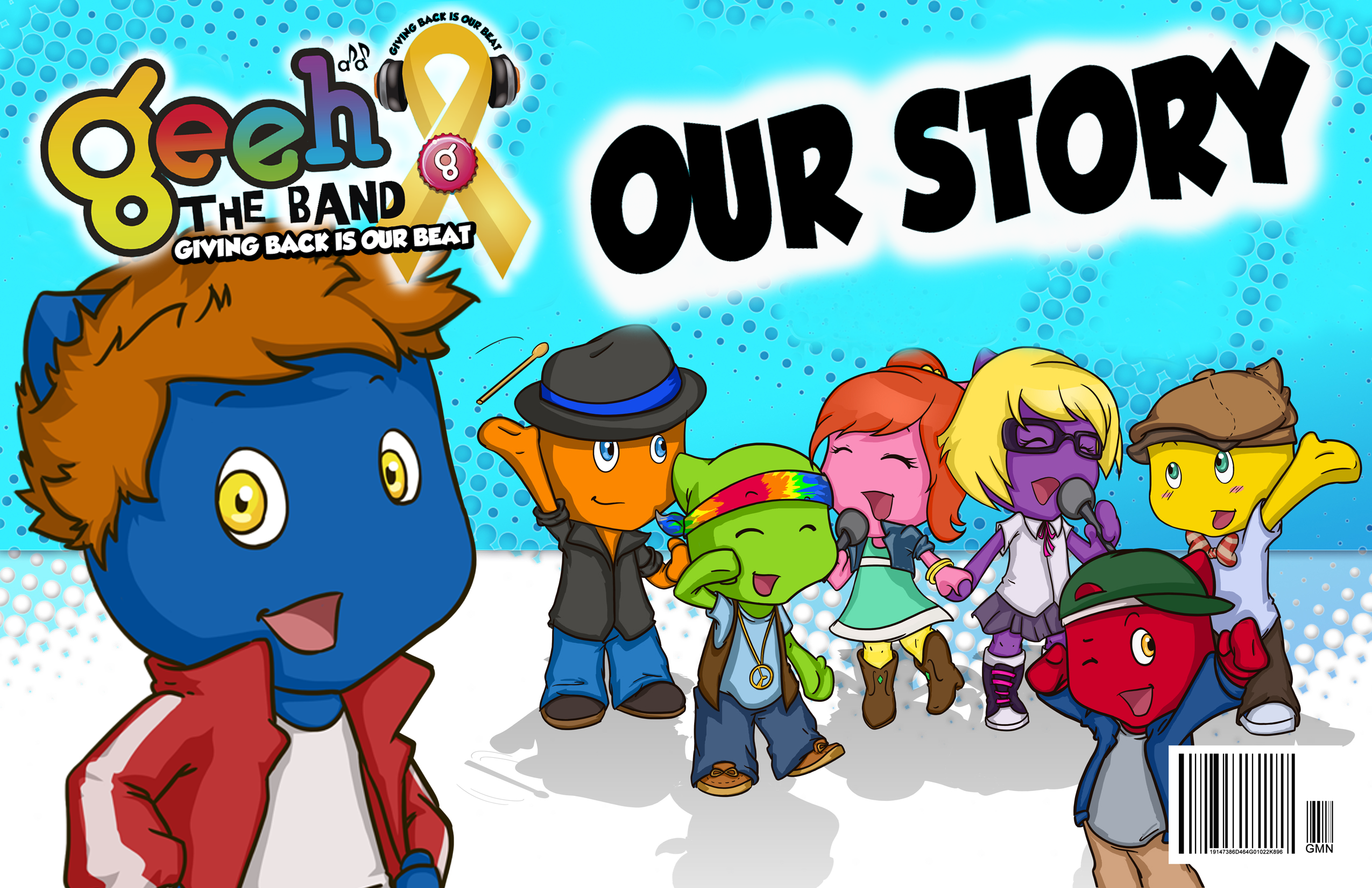 We're Geeh the Band. We come from a faraway world called Premmuy and live in Garlywood. Our mission? To create fun, upbeat music for children! We are a 7-member band, each with a wide variety of interests, passions and musical talents. For those of you who don't know us, allow us to introduce ourselves!
First there's Loop. He's the cool guy in the band who likes to create his own sneakers, play sports with Up, and he loves to play pranks on other band members. We'll prank him one of these days! What is so cool about Loop is that he is amazing on the keyboard!

Meet Groove! He plays the percussion. Did you know the percussion is believed to be one of the oldest musical instruments, which makes sense that Groove loves the 70's. He enjoys playing old vinyl records and likes it when the band plays older music because then he can really feel his soul in the music.
Cue is the manager of Geeh the Band, but he is also the drummer. We love that he wants to play with us. Cue likes to have everything organized. He gets excited when new apps are available for his phone to help sort things out and check out new locations to play. Without Cue, we probably wouldn't know where to play our music at and have someone look over us! Thanks Cue!

Melody is the lead vocalist with dreams of traveling and learning different cultures. She is a girly girl who loves the color pink, watching makeup tutorials and having sleepovers with friends. A cool thing about Melody is that her cowgirl boots are what make her feel confident when she performs.
Up is the cool rock music guy of the band. He's the lead guitarist and dreams of making it into the Rock & Roll Hall of Fame. He really likes playing with Loop and if he doesn't make it the Hall of Fame, he wants to win a Superbowl. You can do it, Up!

Our favorite purple girl is Tune. She's not your average cheerleading captain; she loves all things vintage, including art museums and vintage sunglasses. Melody is her best friend and they both like to go shopping and practicing new music for the band.

Last up is our bass player, Mid. Fun fact: He loves his bow tie collection! Like Cue, Mid also doesn't like team sports instead he prefers to read mystery books and play golf. Mid can be shy at first, but something incredible happens to him when he's on the stage. He feels completely comfortable in front of a big audience.

There you have it! We're Geeh The Band. Even though we are all different, we all love making music together and have a blast performing. Be on the lookout for the new music we've been working on!